Feel Confident and Secure in your Relationship With Money Are you sick of feeling overwhelmed whenever you open you bank account? Do you want to learn to spend money with intention instead of emotion? Do you want to stop staying small and have more confidence in your financial decisions? In this podcast, you will find actionable steps and emotional support to free yourself from shame and help you find peace around money. My mission is to remove the cultural stigma around money, so that you feel less alone and more equipped to start running toward your fears. If you're ready to have a healthier and more purposeful relationship with money, you're in the right place! I'm Meghan, a mom of 2 young boys, a financial planner, and emotional spender. Despite being a financial planner, I've never truly felt a sense of control over my own financial situation. Even though I had the knowledge of financial tools and strategies, I just couldn't seem to implement and I avoided it altogether. When I finally decided to explore my relationship with money and all the thoughts, beliefs and stories that come with it, I started noticing major shifts in my spending patterns. I began feeling less afraid and started feeling calmer and more confident in my financial decisions. And I'm here to share my journey with you! If you are ready to see massive shifts in your money mindset and finally feel good when you open your bank account – this podcast is for you! Its time to start listening to who knows you best – you!
Episodes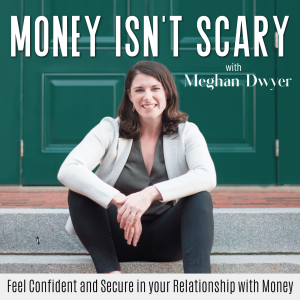 Tuesday Apr 18, 2023
Tuesday Apr 18, 2023
Today, I'm sharing my conversation with Galia Gichon and Susan Yeagley, co-hosts of The Fiscal Firecrackers, a weekly podcast centered around educating, entertaining and empowering people about money.  This was so in alignment for me and my mission, so it was such a treat getting to talk to these ladies. Together, Susan, being a renowned comedic actress and Galia, a personal finance expert with 20 years experience, combine their superpowers to share educational financial information in a hilarious and approachable way.  
Galia Gichon is an independent personal financial expert with more than 20 years in financial services, including nearly 10 years on Wall Street and an MBA in Finance. Her career has spanned corporate bond research analyst, personal finance expert, angel investor, entrepreneur advisor, and author. She is the Founder of Down to Earth Finance, independent personal finance education. She has been teaching at Barnard College's Athena Center for Leadership, Freelancers Union for 10+ years, and Yale School of Management. Previously, she worked at Bear Stearns and Nomura Securities. Galia is also the author of "My Money Matters" which was featured on TODAY SHOW. 
Susan Yeagley is a renowned comedic actress with a side-hustle hobby - wanting to learn everything there is to know about money. Susan's TV credits include playing "Jessica Wicks" on the hit NBC show, Parks and Recreation and recurring roles on CBS's Rules of Engagement and FOX's Til Death. In addition, she has guest starred on ER, Friends, Reno 911, Curb Your Enthusiasm, Miracles, Ellen, Everybody Loves Raymond and The Sarah Silverman Program. Her film credits include: Almost Famous, the Coen brother's Intolerable Cruelty, Coyote Ugly, Neil Burger's The Lucky Ones and the Adam Sandler film Blended. Most recently, you can catch her playing Parker Posey's half-sister in the Christopher Guest Netflix film, Mascots. This December, she played nutty realtor Barb Hutter, in the Sister Swap Christmas movie on the Hallmark Channel.
Check out their website: https://www.fiscalfirecrackers.com/
You can find them on Instagram:
https://www.instagram.com/fiscalfirecracker/
Susan: https://www.instagram.com/sukiyeagley/
Galia: https://www.instagram.com/pagesandmore/