Feel Confident and Secure in your Relationship With Money Are you sick of feeling overwhelmed whenever you open you bank account? Do you want to learn to spend money with intention instead of emotion? Do you want to stop staying small and have more confidence in your financial decisions? In this podcast, you will find actionable steps and emotional support to free yourself from shame and help you find peace around money. My mission is to remove the cultural stigma around money, so that you feel less alone and more equipped to start running toward your fears. If you're ready to have a healthier and more purposeful relationship with money, you're in the right place! I'm Meghan, a mom of 2 young boys, a financial planner, and emotional spender. Despite being a financial planner, I've never truly felt a sense of control over my own financial situation. Even though I had the knowledge of financial tools and strategies, I just couldn't seem to implement and I avoided it altogether. When I finally decided to explore my relationship with money and all the thoughts, beliefs and stories that come with it, I started noticing major shifts in my spending patterns. I began feeling less afraid and started feeling calmer and more confident in my financial decisions. And I'm here to share my journey with you! If you are ready to see massive shifts in your money mindset and finally feel good when you open your bank account – this podcast is for you! Its time to start listening to who knows you best – you!
Episodes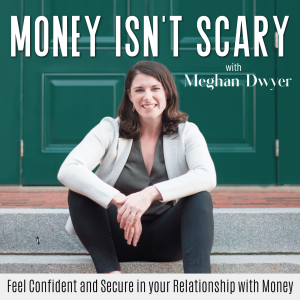 Wednesday Jan 05, 2022
Wednesday Jan 05, 2022
Happy New Year! As we enter into the season of new beginnings, I share my conversation with breakthrough coach, Rebecca Wiener McGregor, who works with her clients to move through blocks and hidden fears to find a deeper sense of self-worth. We talk about embracing fear, feeling our hard emotions and judgement. 
Enjoy!